"I've done this before" JB said; "with Mr & Mrs A – it's tough, but survivable, and it'll be good training for The Thing in the Summer".  Not really giving it much more than cursory consideration, I agreed.
The Exeter to Lands End Challenge is organised by OfficerM the Rozzer to raise money for a selected charity – this year it was to raise money for bowel cancer (shamless plug – see link at the bottom of this), and comprises 132 miles of main roads and lanes, beginning in Exeter and ending in Lands End. There are 4 stops along the way at Rozzer shops in Okehampton, Launceston, Wadebridge and Camborne.
JB and I have been doing some pretty solid training, by our standards, with 600+ mile months and regular 100+ weekends and so were fairly confident that we would survive the E>LE, and even more confident that it was likely to be ugly.
With an end to end, as we discovered on our Coast to Coast the other week, getting from one end and back again has it's own logistical problems to be overcome. Getting to Exeter was solved quickly with MrJB volunteering his services, understandably, neither he or MrMegster were keen on getting us back from LE, especially in Bank Holiday weekend traffic. So to Plan B… more on that later.
Over the approaching months we had gathered a small team together, riding 130 miles in a group of two didn't appeal as much as the option to share the load with Others. MrL was first to sign up, then MrsB soon followed. MrsL however had other plans for the BH weekend and MrL stepped out. Then MrsB, for Reasons, made the decision not to ride, leaving us with a team of 2. OfficerM wasn't sure that we should ride as a pair and gently suggested that we throw our lot in with a group of 8 social riders, who welcomed us with open arms. We were also gently encouraged to leave at 6am, rather than 7am like The Proper Riders

. We readily agreed to this too, quieter roads, cooler conditions… etc.
JB had a confidence giving conversation with Mr Ripley, our group leader, on the Saturday before we left, he was firm that they were social riders at social pace, no more than 10 mph, plenty of chocolate stops and no pressure to lead from the front. JB and I were both delighted that we were going to get the opportunity to shelter in a group and would be more than happy to take a turn on the front.
Anyhoo. Yesterday, at 6ofuckenclock we found ourselves, bleary eyed at Exeter Police Station being introduced to our group and sent on our way. Led out by Mr Rilpey, Garmins on with the route pre-loaded (this event isn't signed, you hafta self navigate with a map or GPX) we headed across Exeter and out and up towards Tedburn St Mary and beyond to Okehampton where the first stop was.
JB and I interveened early on to make sure we didn't get lost in Exeter and found ourselves in the front of the group as it split going up Dunsford Hill and out of Exeter. Happy to be keeping up and not disgracing ourselves, we rode on and it started to drizzle. Then it started to rain. Which wasn't forecast. No matter, we had coats and gilets which we quickly put on. The Others in the group stopped to turn on lights and sort coats too. We were only about 10 or 15 miles in by now and already I was starting to have doubts that we were in the right group. JB and I rode on steadily, and the next time we looked back they were nowhere in sight.
"We'll regroup at Okehampton" we agreed. A while later, we decided that we wouldn't regroup, and that we needed to keep moving if we wanted to get to Lands End in the same day. We made it to Okehampton in around about 2 and a half hours, almost exactly as we expected. The Rozzer was nice there and he gave us a cereal bar and showed us where the loo was

. We finished our bars and bananananananas just as our group pulled into the stop. MrRipley was looking a leetle bit frustrated and we knew then that we were making the right decision to bail and strike out on our own. We weren't benefiting the group any more than they were us, so it was really a no brainer. MrRipley was understanding and I suspect a little jealous…

The next section, to Launceston was lovely. Quiet roads, the rain stopped, although there was a decent mist, and there were a couple of meaty ascents but nothing we couldn't handle, they were more than paid back with long sweeping descents and in what seemed like no time we were in Launceston. We were using our Garmins to navigate and so weren't watching the miles. I had a sneaky peek on the way to Launceston and asked JB if she wanted to know the numbers:
"YES" she said.
"38 miles" I told her.
"Fuck off" she said.
"I know" I said.
We both though we were going to be in the high 20s or low 30s, and this just made us sure that we'd made the right decision to leave the group and make our own way. When we left Launceston Food stop, manned by a great team with egg sarnies and all sorts of other Nice Things, there was no sign at all of the group and apart from a solitary chap, we were the first to Launceston.
The next stretch to Wadebridge was fairly innocuous but one of the longer stretches at nearly 30 miles. When we made it into the stop here there were more tables laiden with sarnies and cakes and energy drinks and all the stuff you needed. Once I was escorted out of the Police station (I got lost in there when I went to the loo, honest I did Officer

) we were on our way…
We'd been warned about the hill out of Wadebridge and 'cafe-legs'… It wasn't pretty…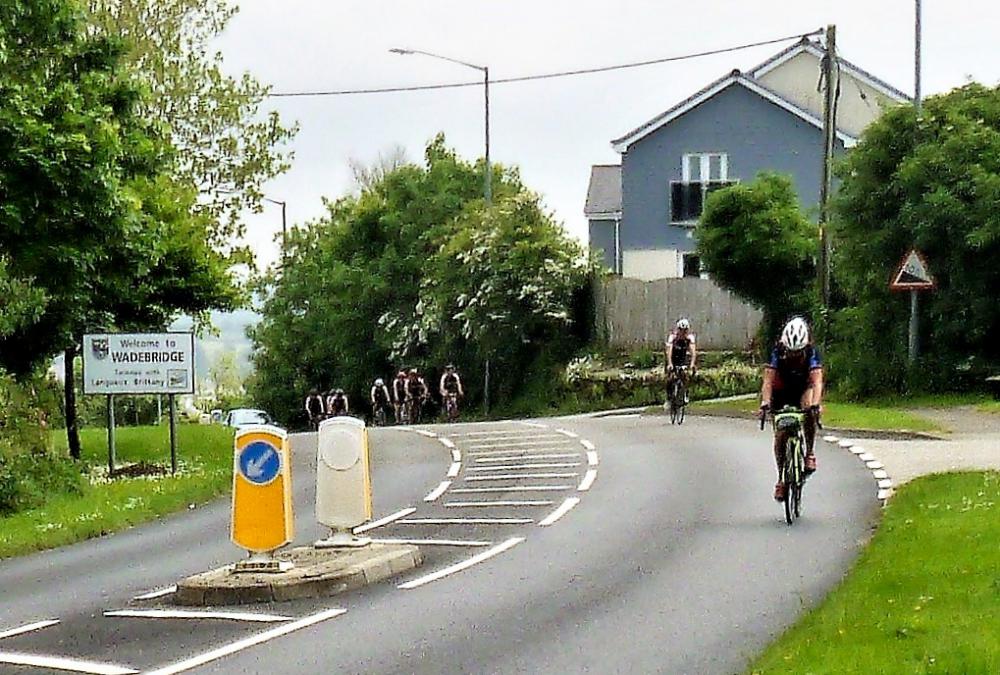 Now we just had to follow the Atlantic Highway all the way to Camborne. I know this road. It's not too bad – sure it undulates a bit but there are no Big Hills like what we have in Devon.
20 minutes later and I'm ready to call it a day

. WTF. JB had to run point the whole way to Chiverton Cross Roundabout, me I grumbled, grouched, moaned and nearly, nearly cried.
When we left Wadebridge, we'd been in the saddle for about 6 hours and covered just over half the distance at 73 miles. I was feeling good, relatively. 5 miles along the Atlantic Highway and I was beat. I had nothing left, I couldn't keep in JB's wheel on the flat and she dropped me like a stone on any climb, and then patiently waited for me to catch up before dropping me again. It wasn't just the hills, this road is quite open and there was a gusty wind, but the traffic was icing on the cake for me. Bank Holiday Sunday going past Newquay, Perranporth and beyond there was just car after car after car, and virtually none of them passed safely. It was really scary and after a few miles began to really stress me out, and poor JB was having to keep waiting for me, feeding me jellied fruits – it all felt really unsafe, particularly on legs that were refusing to help. There was no suggestion of stopping but it began to look like the last 50+ miles were going to be hellish, for us both, especially if JB was gonna hafta tow me the whole way to LE.
Finally, we made it to Chiverton Roundabout – it's a dangerous place – we shut our eyes and gunned it to our exit and finally a sign for Cam-fucken-borne and the final stop. I bravely

took a turn on the front, until there was a rise in the road and JB hadta take charge again. Redruth came and went… then Pool…
"Where the fuck is Cam-fucken-borne?" JB asked.
Some Fucker has moved it, that's what's happened. It's the only answer…
Eventually we pulled in. Some of The Proper Riders were slumped in camping chairs mainlining jelly babies and energy drinks but they mustered a cheer for us! I dropped my bike where I stopped (mech side up) and lay face down on the grass. I hafta say, it was The Best Lie Down I've ever had.
"Be a dear" I muttered to one of The Proper Riders… "fetch me my coke from my bar-bag over there"; *waves vaguely. And to his credit he did.
Cheesey rolls, can'o'coke, jelly babies and a lie down. Quick wee, and we were on our way again. I felt a million times better, still fucked but only as much as I expected to be, not like on the last section where I had nuffink. As we rode out of the last stop it struck us that apart from the 4 lasses that were in our original group and no-where to be seen, we were the only burds riding, out of 60+ entrants.
From family holidays, I know the last bit of the route. Over to and through Hayle, across another scary roundabout, catch the A30 up and over till we see St Michael's mount and down into Menzpants. Sorry, Penzance. I was able to take my turn on the front, and happy to do so, keen to give poor JB a break from towing me for the last 30 miles

. We were by no means outta the woods but I had no doubts now that we would finish. We poured into Menzpants along the A30…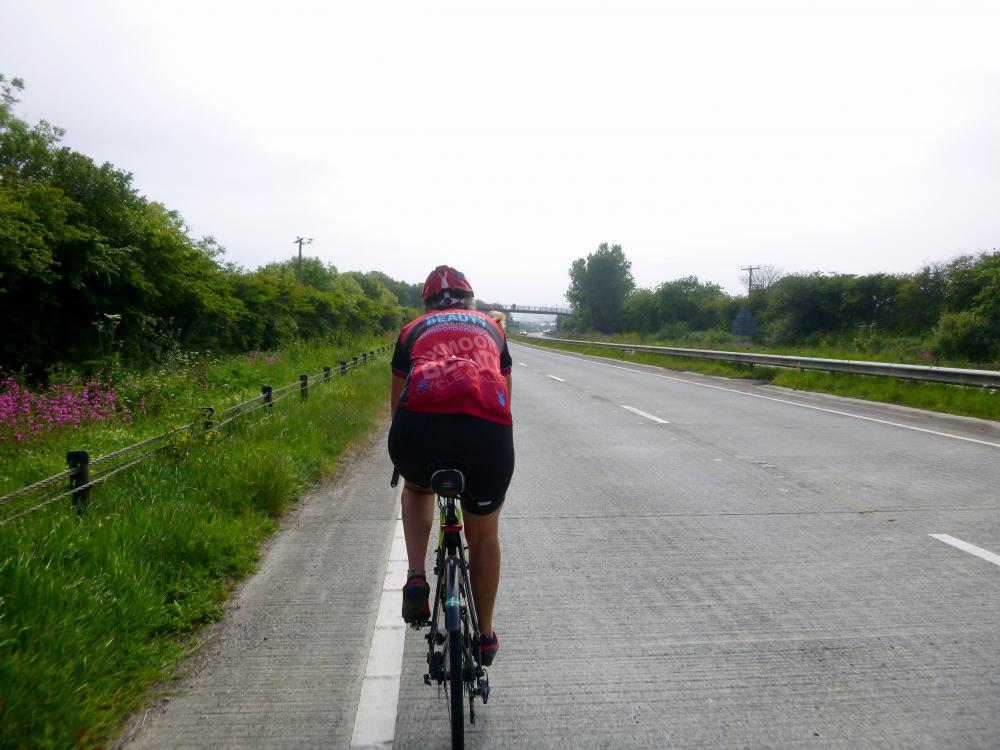 the roads finally a bit quieter. Along the bottom of the town, pausing at the Jubilee pool for a swi-… hahahaha, NOT. Pausing to phone mum to mobilise Dad and to get the kettle on, for they live in Menzpants and had become Plan B. Onwards.
JB had been warning me about the last 9 miles and how hilly it was. Pah. I know this road like the back of my hand – sure it rises a bit… Hmmmm. Ok, so there's *this* hill at Drift… wait, this isn't Drift. Ok so there's *another* hill at Drift, then it's cruisey…

. Somehow we pulled 17mph along the last bit between Menzpants and Sennen, where Dad cruised by giving us 'bloody cyclists' a good'n'wide pass (bloody Volvo drivers ;-)) and we rolled in Lands End; where it almost went wrong. JB put her hand out for a high five, which I misinterpreted as a 'turn left gesture' and shot off the wrong way

!
Finally got it together for the high five and rolled in to the finish. 132.5 miles in 11hrs, 49 minutes (or 10 hours 29 minutes if you take out the stops), 8140 feet of climbing and an average speed of 12.5mph. Which, I hafta say, is extrordinary – we struggle to average that on our training rides.
Dad took us home, mum had produced a welcome feast, shower, beds.
Then Part deux of Plan B. The Train – cos it went so well the last time…
Well, it did go well, just. We had to leggit down the platform to make our connection – for a moment thought we may hafta ride home from Exeter (25 miles)

– to the extent that we planned our ice-cream stops while we watched the minutes tick towards the time our connecting train was due to depart!
Then it was just a plod (we were way past pottering by then) home along our little towpath, stopping for an ice-cream in the usual spot.
It felt like a monstorous thing, and I always say 'Never again'.. This time I mean it. Not because of the distance or the suffering, but because there was no medal or t-shirt!

*crosses fingers that the OfficerM doesn't read this and add medals and t-shirts to the list for next time…