I wanted to do this ride as soon as I spotted it, cos of family holidays spent in the area as a young'un.  JB perked up when we realised there was a *special* t-shirt and medal on offer to those who had completed the 3 Counties Challenge – Somerset: the Taunton Flyer √, Devon: the Moor2Sea √, with the LE100 making up the Cornish part of the challenge.
JB and I argued for around 6 months about which route to do.  With a choice of 100m; 100k; or 48 miles we soon ruled out the 100m.  We would be riding it only 2 weeks after the Ness and had no idea what state our little leggies would be in.  When the time arrived to enter, we decided to enter the 48 mile, having looked at the routes we didn't stand to lose much of the pretty bit and so eventually I agreed that the 48 was a no-brainer. JB said she was happy that I hadn't taken *that* much persuading.
The route started and finished in Marazion, Cornwall, opposite St Michael's Mount, then crossed to the north coast and then followed the coast road around the West Penwith Peninsula, taking in the famous bits: Lands End, Mousehole and Newlyn. But I'm getting ahead of myself.
We set off straight from work on Friday to save an early start this morning, having booked a Premier Inn (I totes love a Prem. Inn). Driving west the sky was frankly feckin' awesome on the way. We kept saying "red sky at night", we all know what that means now, don't we.
We're not completely wet behind the ears and had foresight enough to check the forecast before we left. We'd packed all The Wet Weather Clothes, but I began to believe those feckin' shepherds and hope that we might get their delight in the morning.
Earlyish night followed chishnfips.  We were sat at our All You Can Eat Premier Inn Brekkie by 7am, having hammered on the door to be let in… Then 20 minutes in the car to Marazion and the start. 'cept it could have been anywhere, we could barely see St Michael's Mount for fog and mizzle and the wind was gusting with enthusiasm!


At this point, I hadta sort out The Thing I Forgot, and go and re-register, cos The Thing I Forgot was my number and timing chip. Knob. New number and chip acquired we joined the start pack and inched towards the inflated orange start arch. Which was being hurriedly tied to vans to stop it disappearing out to sea.  I had half an eye open for those shepherds cos I wanted a word 😲.
We watched the man giving the race briefing, we couldn't hear the briefing cos of the wind. JB said 'I think he said don't fuck with traffic and be nice to others' and with that we were off.
This isn't going to be a mile-by-mile report, don't worry.
I'd been told by Fitchfromwork that the hill out of St Ives wasn't the one to worry about, it was the one with the hairpin after Treen.  Well, I know that hill from Days Gone By. As a family, from a young age we had camped at Treen and fought our way up that hill in a range of cars from a 2CV called Pam to my lil old Fiesta Flossie – I knew how steep it was and didn't hesitate to share the info with JB. She said we had permission to walk if we wanted, after all, we'd decided that the medal standards were out of reach.
We were across the peninsula to Hayle in what felt like next to no time and seemingly both in good spirits.  Sure, we were being whizzed past by the normal amount of whizzers, but with pressure off to hit medal standards and our heads prepared and aware of what was to come, there was no sign of the Dark Place, yet.  We were wearing our gilets cos of Weather, so our flag jerseys weren't on show.  We were wearing our *special* socks though, everyone seemed to like them and lots of the whizzers commented "nice socks ladies".  There's been a few on these 3 Counties rides who have mistaken us for ladies…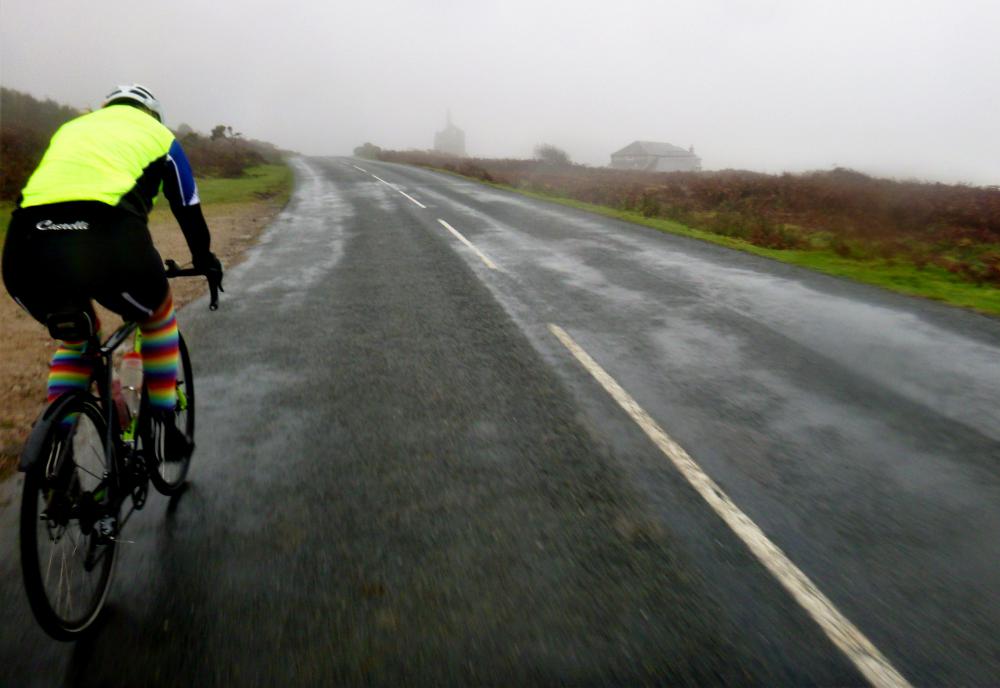 At the St Ives turn off was the first feed stop.  Now, Just Events do the best feed stops ever, so we had to dig deep to ride by, but we were only at around 10 miles and it felt too early.  The climb out of St Ives, the first of the cat.4 climbs was almost 3 miles and climbed nearly 500′, but wait. What the fuck is this? We're at the top. And the Dark Place isn't here. I dare to wonder if our training is working – we have a new programme you see, it's called 1BHER. It's short for 1 Big Hill Every Ride.
The weather was still shocking, at one point it changed from mizzle to actual rain but I only noticed because it made my eyeballs sting. The wind wasn't strong enough to knock you off your bike, just change it's course… And of course travelling west towards the most southerly point of England, we wouldn't have expected NOT to have a headwind…

The next stretch took us along the coast from St Ives to Land's End. I know this bit of road, it's uppy-downy but nothing too serious and the views are spectacular, with the Atlantic on our right the whole way. "Lookit the moon" JB said. You what now? Looking out to sea that's exactly what it looked like, and, we laughed it was cold as the fuckin' moon too.
Into Land's End having passed through Zennor, Sennen and stopping at one point for the heavy traffic…


Well, we weren't chasing the medal standards were we, so it didn't matter
Feed, wee and photie at Land's End and outta there ASAP, it's a shit hole, sadly, and we couldn't get to the actual end anyway.
Past Porthcurno (where Poldark was recently spotted, and 'is 'orse) and the Minack Theatre, past the Treen turn-off and down we plunged. This was the other hill that had been playing on my mind since the summer! It's 170' of climbing over .3 of a mile with a hairpin at halfway. Quite steep, but quite short. Well. Shit me. 1BHER at work again? We're up it, I'm panting but able to keep going! And still, no Dark Place. To be clear, I never climb a hill and say "that wasn't so bad" but I did today!
And then, bar a few more uppy-downy bits, a big descent into Mousehole… Never been more grateful for the disc brakes and wider tyres that my crosser has, there were some blokes sailing past saying how 'hairy' the decent was and I'm sure it was their rim brakes I could smell!
Quick photo in Mousehole then a flat run along the coast to Newlyn and into Penzance bus station car park and the the finish. As we entered the car park I looked at my Garmin – "fuckmebird" I said to JB – we're only 2 minutes outside bronze medal standard – less twatting around and less traffic and we'd have a medal! We were fairly relaxed about it, after all we weren't chasing the bronze, so we hadn't missed out really.
Then, just a couple of miles along the seafront cycle path to the car, the crossers really coming into their own along the sandy path  For once, we were on the right bikes!
We went straight to the tent to get our goodie bags and check-in. JB's time registered and, cos she's a leetlebit older, she gets an easier time – cos she needs more toilet stops, so she got a bronze!! Get-in! When the timing lady put my number in, the computer crashed, so they gave me a bronze too! (I did fess-up and say I was a different age-category) but the standard time was 3:52, and JB clocked 3:52 and a few seconds so that was good enough for them – and certainly good enough for me – if it wasn't for the traffic…
On a day when everything was stacked against us we had one of the most enjoyable rides we've had for ages. We tried (again) to rationalise it on the way home as we disposed of a packet of Tuc biscuits, but couldn't. I can't help but wonder if there's something in JB's theory that, as we touched on at the Twentyfour12: we seem to do ok when the conditions are against us, the worse they are the better we seem to do. Except Coast2coast, and we don't speak of that.
Plus, look at the bling

Credit: JB's photies